Chamber Kilns, Heated from Five Sides
Heating from five sides and a special arrangement of the heating elements ensure optimum temperature uniformity.
Process Control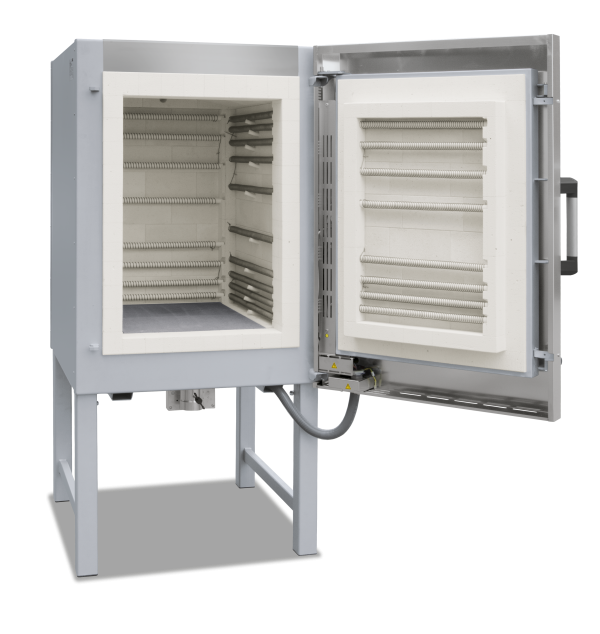 Function and equipment
First-class craftsmanship, professional design, long service life and excellent temperature uniformity – chamber kilns from 100 liters up to 2200 liters round off the range of kilns for professionals. These kilns have proven their worth for many years, firing porcelain and stoneware and annealing glass, even when tightly stacked and at high working temperatures. You will find these chamber kilns in ceramic workshops, studios, clinics, schools and in private homes. They are recommended for frequent firing, when the kilns are tightly stacked and when excellent temperature uniformity is needed.
A kiln should not be operated permanently to its performance limits. If the kiln is often fired to its performance limits, we recommend our chamber kilns to 1340 °C. Most chamber kilns are available from stock.
Standard design
Heating elements on support tubes ensure free heat radiation
Heating from five sides and a special arrangement of the heating elements ensure optimum temperature uniformity
Scope of delivery includes SiC floor plates to protect the floor heating and provide for safe stacking of the kiln furniture
Base included in scope of delivery
Door cover made from structured stainless steel
Semi-automatic air inlet flap that closes automatically after the drying phase in the firing program for chamber kilns up to 300 liters
Motorized exhaust air flap in the middle of the kiln roof for optimum ventilation of the kiln with chamber kilns from 440 liters
Defined application within the constraints of the operating instructions
Process Control and Documentation
As one of the world's largest furnace manufacturers, Nabertherm has many years of experience in the design and manufacture of standardized and customer-specific control systems. All controls are characterized by a very high level of operating convenience and even the basic version has extensive basic functions. Depending on the requirements, the functions can be expanded and adapted to your needs. Professional software solutions for single or multiple furnace management as well as process and batch documentation based on our Nabertherm controllers complete the range. 
Technical specifications
Model
Tmax
Inner dimensions in mm
Volume
Outer dimensions2 in mm
Connected
Electrical
Weight
 
°C
w
d
h
in l
W
D
H1
load kW
connection
in kg
N 100
1300
400
530
460
100
720
1130
1440
9.0
3-phase
275
N 150
1300
450
530
590
150
770
1130
1570
11.0
3-phase
320
N 200
1300
470
530
780
200
790
1130
1760
15.0
3-phase
375
N 300
1300
550
700
780
300
870
1300
1760
20.0
3-phase
450
N 440
1300
600
750
1000
450
1000
1410
1830
30.0
3-phase
820
N 660
1300
600
1100
1000
650
1000
1750
1830
40.0
3-phase
950
N 1000
1300
800
1000
1250
1000
1390
1760
2000
57.0
3-phase
1800
N 1500
1300
900
1200
1400
1500
1490
1960
2150
75.0
3-phase
2500
N 2200
1300
1000
1400
1600
2200
1590
2160
2350
110.0
3-phase
3100
 
 
 
 
 
 
 
 
 
 
 
 
N 100/H
1340
400
530
460
100
760
1150
1440
11.0
3-phase
325
N 150/H
1340
430
530
620
150
790
1150
1600
15.0
3-phase
380
N 200/H
1340
500
530
720
200
860
1150
1700
20.0
3-phase
430
N 300/H
1340
550
700
780
300
910
1320
1760
27.0
3-phase
550
N 440/H
1340
600
750
1000
450
1000
1410
1830
40.0
3-phase
900
N 660/H
1340
600
1100
1000
650
1000
1750
1830
52.0
3-phase
1080
N 1000/H
1340
800
1000
1250
1000
1390
1760
2000
75.0
3-phase
2320
N 1500/H
1340
900
1200
1400
1500
1490
1960
2150
110.0
3-phase
2700
N 2200/H
1340
1000
1400
1600
2200
1590
2160
2350
140.0
3-phase
3600
1Base included
2External dimensions vary when furnace is equipped with additional equipment. Dimensions on request