Glass Beads Cooling Furnace
The MF 5 model is the ideal furnace for cooling large glass beads or glass jewelry.
Process Control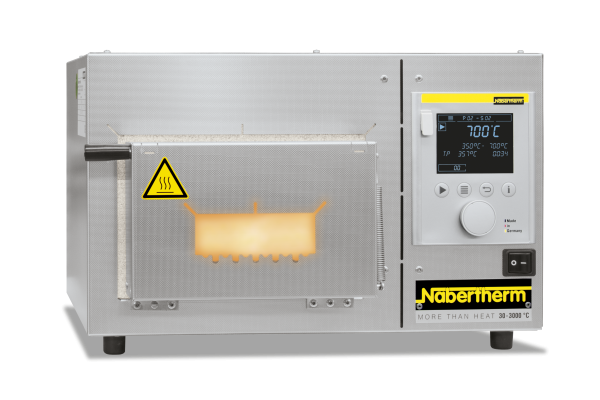 Function and equipment
A high-quality furnace is indispensable for professional glass bead tempering. The MF 5 model is the ideal furnace for cooling large glass beads or glass jewelry. For charging the glass beads, the door is equipped with a window which can be closed with a filler piece when the furnace is used for other applications. The infrared heating prevents direct contact with the heating elements so the glass beads cooling furnace can be safely opened during operation without heating interruption. With a maximum temperature of 950 °C, this furnace is multifunctional, and can be used for fusing and enameling applications, for decorating and for preheating frits and other materials.
Table-top model
Heating from furnace ceiling, elements protected in quartz glass tubes for safe open-door operation
Multi-layer energy-efficient insulation
Exclusive use of insulation materials without categorization according to EC Regulation No. 1272/2008 (CLP)
Housing made of textured stainless steel
Solid state relays provide for low-noise operation
Window with rack for charging glass beads
Defined application within the constraints of the operating instructions
Process Control and Documentation
As one of the world's largest furnace manufacturers, Nabertherm has many years of experience in the design and manufacture of standardized and customer-specific control systems. All controls are characterized by a very high level of operating convenience and even the basic version has extensive basic functions. Depending on the requirements, the functions can be expanded and adapted to your needs. Professional software solutions for single or multiple furnace management as well as process and batch documentation based on our Nabertherm controllers complete the range. 
Technical specifications
Model
Tmax
Inner dimensions in mm
Volume
Outer dimensions in mm
Connected
Electrical
Weight
 
°C
w
d
h
in l
W
D
H
load kW
connection
in kg
MF 5
950
220
240
100
5
485
370
320
1.6
1-phase
15